Big excitement around here yesterday! While looking for a Mockingbird that had been singing loudly all morning but was anomalously out of sight, I found a thrilling visitor in our yard: a Long-Eared Owl. It was perched in our back yard acacia tree, just about 9 or 10 feet up. It wasn't hard to see, once my eyes had accidentally fallen upon it. Despite the thin screening of fine foliage it was relying on for coverage, the blue sky behind gave away its owliness (see photos below).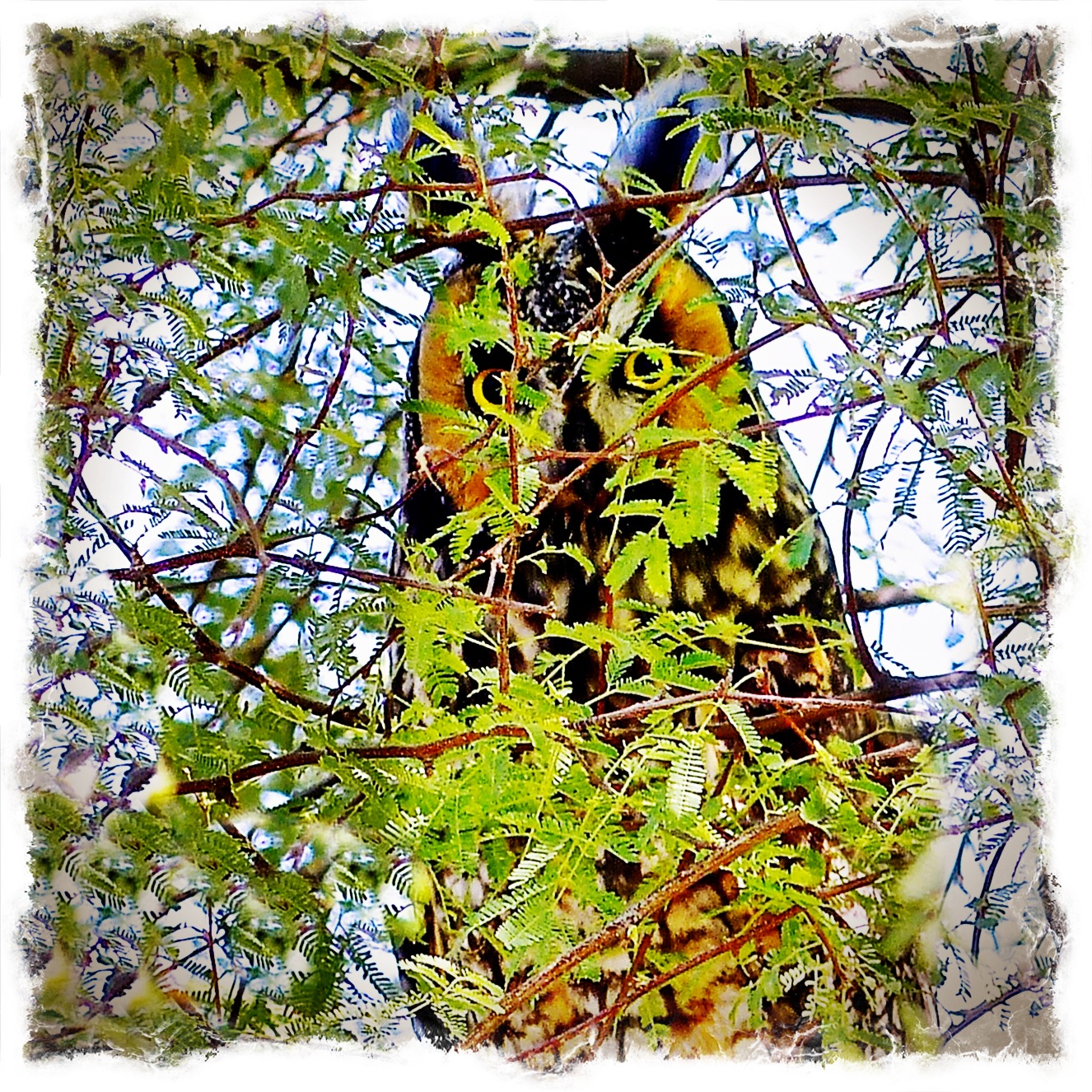 Long-Eared Owls are not something you see every day. It's not because they're rare in the Western U.S., people just don't spot them very often.
>> Artsy edit of yesterday's owl, keeping an eye on me keeping an eye on it. Very thankful for a long lens, so I didn't have to get too close! (photo A.Shock)
This is because for the most part, they're very hidey creatures, even for owls. Good camo — including spectacular "ear" tufts that are more centrally located and longer relative to its head than those of Screech Owls or Great Horned Owls, plus a bark-like bar-spotted belly pattern — is one reason Long-Eareds are seldom seen. They have great trust in this camo, and yesterday's bird showed this confidence. It knew I was looking at it, but it held still and didn't shift, except to open its eyes briefly. The same strategy of motionlessness worked on the local songbirds as well. They knew it was there — I saw lots of them come in to check it out, woodpeckers, hummers, finches, thrashers — but their behavior and vocalizations never became anything as frenzied as a "mob". The owl sat quietly, and the scene didn't escalate. I've seen Cactus Wrens and Verdins pitch bigger fits over an Elf Owl, a bird which is a fraction of the size of the Long-Eared.
It spent the afternoon dozing and swivelling its head occasionally — I could see it from the safe distance of the back porch, with binoculars — its magnificent cranial tufts wafting slightly in the breeze. At twilight, it spent some time preening, bending its head over its back to align long primaries and tail feathers. At full dark, it gave a raspy bark and flew out into the night.
Like many birders, I'm sometimes asked how to spot an owl.  This is one of the best ways: be sure you always look for the Mockingbird. Not literally always a Mockingbird, of course. But one of the biggest joys of birding (or any sort of getting outside activity) is that you may not find what you're looking for, but there's always something to see.
And, also: a dark owl shaped blob in a tree is pretty much a dead giveaway!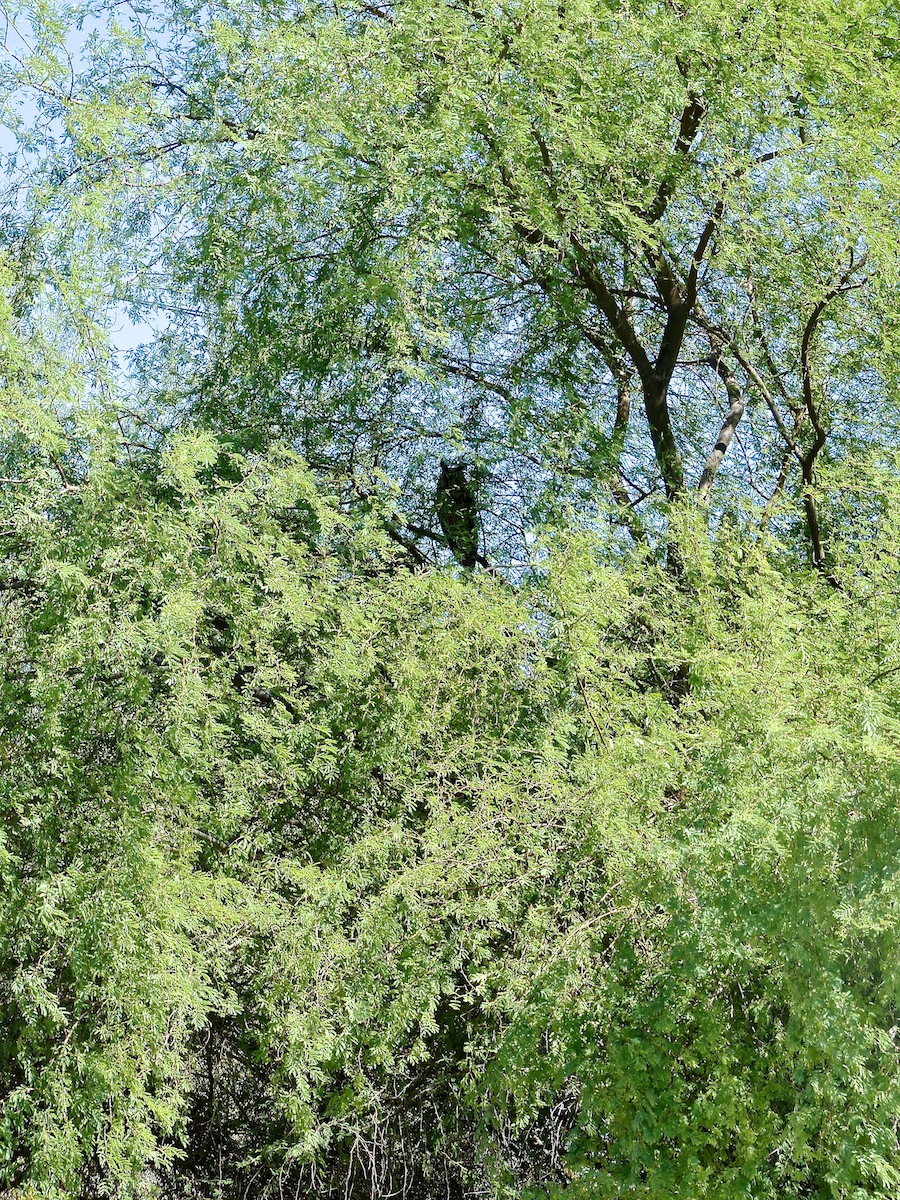 Long-Eared Owls are considered a "medium-sized" owl: bigger than a Screech Owl, but smaller than a Great Horned Owl. If you want to read more about this species, click here.
For the record, here are a couple of less-tweaked images of the owl in situ. Be sure to click to enlarge! (All photos A.Shock)