I presented the following essay, written especially for the occasion, at "Sonoran Stories: for the Birds", a story-telling event held at  of Audubon Arizona's Nina Mason Pulliam Rio Salado Center, on 23 Sept 2012. It was part of a benefit for Sonoran Desert Heritage's efforts to preserve 750,000 acres of desert in Western Maricopa County.  My thanks to Sarah Porter and Doug Bland for giving an unseasoned story-teller a voice in an all pro line-up!  The photos weren't part of the oral presentation since the audience was called on to conjure up images in their heads; I've added them to this website post, since they were the source for many of the descriptive passages. They've all appeared previously at threestarowl.com — click on the captions to link to the original posts. (All photos by A.Shock) Translation note: the name "Harfang" is from the French name for Snowy Owl: Harfang des Neiges.

Imagine the Shape of a Bird: vertical napping bark
Everyone has their own bird. And everyone's bird is different. It might be your favorite bird from childhood.  It could be, as birders say, your "best" bird. Maybe it's a bird you know well because you lived with it – or an exciting bird you saw only once. It could even be a bird you've never seen, one you'd cross an ocean to find.

I'd like to invite everyone here to use your mind's eye to imagine the shape of that bird.
Is your mind's eye looking up? Did you see a Cliff swallow, swooping down from its tidy mud nest under a Salt River bridge? Or maybe you saw a Costa's hummingbird at a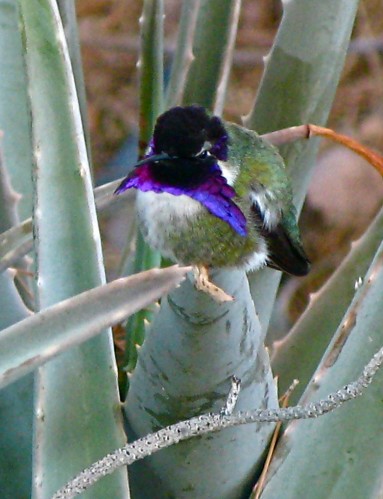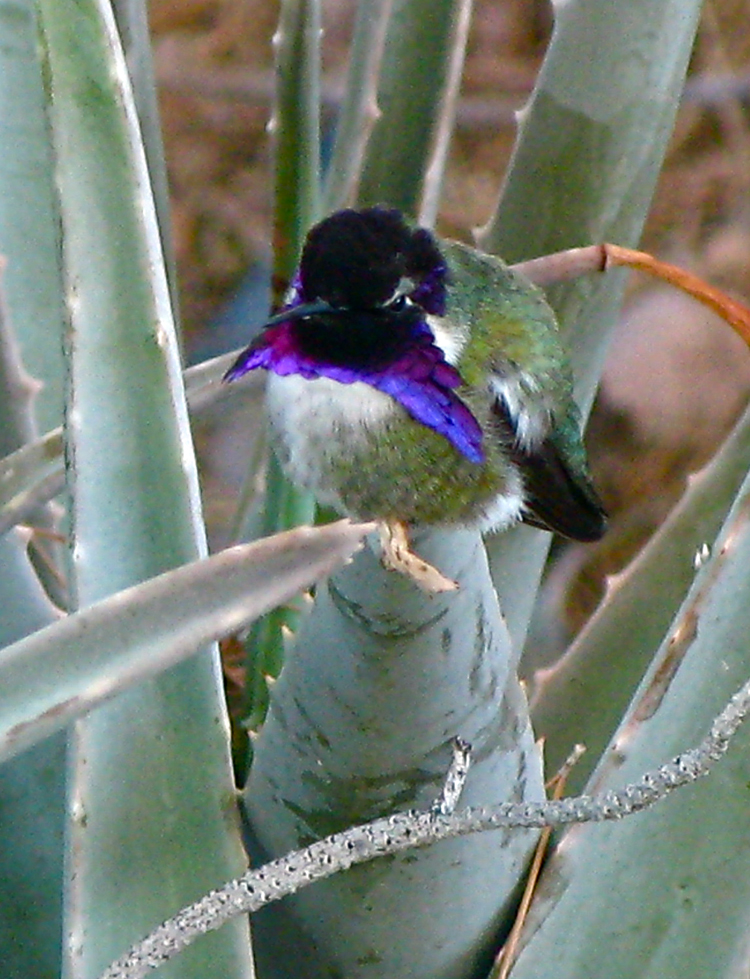 chuparosa flower, flaring its purple gorget like a dinky dude twirling his cowboy mustache? Or maybe you waxed poetic and pictured the teetering float of a turkey vulture waiting for the sun-warmed scent of carrion – a redolent roadkill ragout – to rise up to its pervious nostrils?
We people like to picture birds in the air. We think of a bird as an airborne creature, aloft and at altitude. To those of us on the ground, birds make flight look easy – so easy that we commonly say that a bird is "at home" in the air.
But really, for many birds, when they're on the wing they're at work — whether it's a day job or a night job, or whether, like a lesser nighthawk, they're working the crepuscular swing shift. On the wing, birds are commuting, feeding, migrating, patrolling their territory, advertising their presence for the benefit of a potential mate or rival.
So instead of a flying bird – a working bird – I'd like to ask you to imagine a less dynamic, more domestic shape: a bird in the place it roosts, rests, nests, or digests. Imagine a bird at home: an elf owl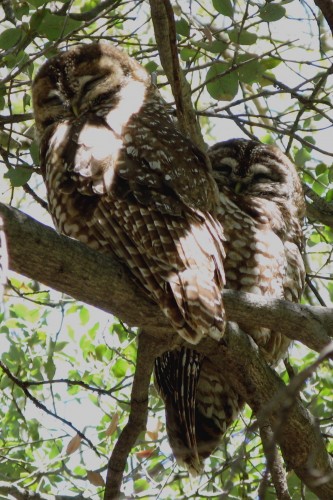 sunning in a saguaro hole, passing for a patch of brown cactus crust. Or, a pair of Spotted Owls loafing shoulder to shoulder on a sycamore limb, doubled-dappled with sunspots and owl spots.
Spotted owls of Scheelite Canyon>>

That's my bird – an owl at home: Vertical Napping Bark. An owl at rest is a bird in its most basic shape, not doing much, maybe yawning occasionally, scratching its facial disc, or swiveling its head to glare at a scolding wren or agitated jay, cocking its eye upward to follow a red-tail's flight overhead.
As a birder, I never tire of seeing that shape in the wild, even if it's just a quick glimpse, or nothing but a silhouette screened by foliage. As an artist, that shape is something I think about a lot. I need to know how an owl's shape forms and changes, how an owl organizes itself. A sleepy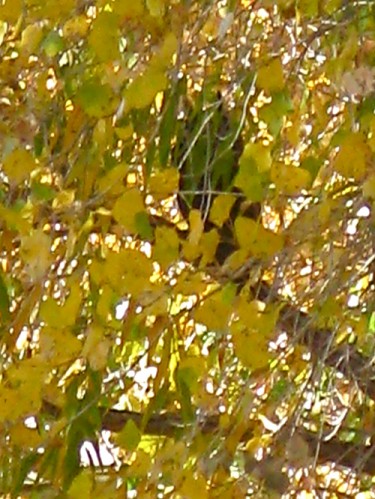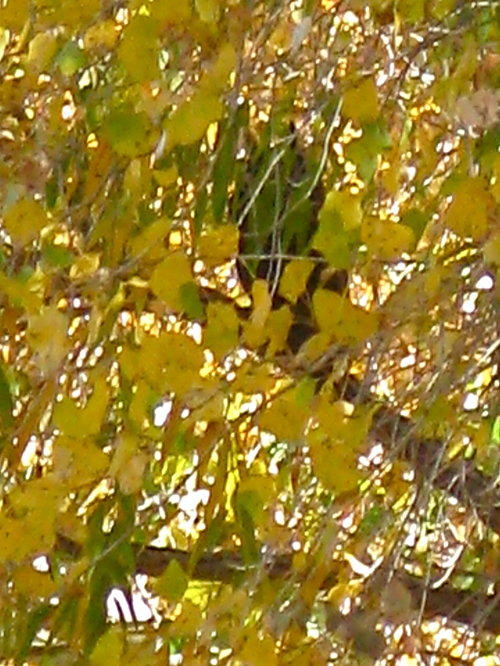 owl, an indignant owl, a startled owl – each of these owls has a different shape.  Let's consider a loafing owl now.
silhouette of a Great Horned Owl in fall leaves >>

Since owls are good at not being seen, I've brought a ringer, a visual aid to help out. Meet my assistant: Harfang [fake owl unveiled from under black velvet bag]. You might notice Harfang is not a desert species. Nevertheless, he's a local bird. He's a plastic Snowy owl purchased from the garden dept of a now defunct big box store on Thomas Road, as a scare-pigeon. But in our yard, he perches on the garden wall for decorative effect, ignored by the lesser goldfinch and lovebirds who come to feed on the sunflowers we grow for them.
It's not his fault Harfang doesn't scare the songbirds — what could our desert finches, chatty scraps of dry yellow sunshine – know of a hunter of lemmings on the Arctic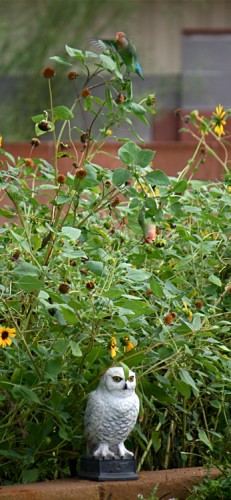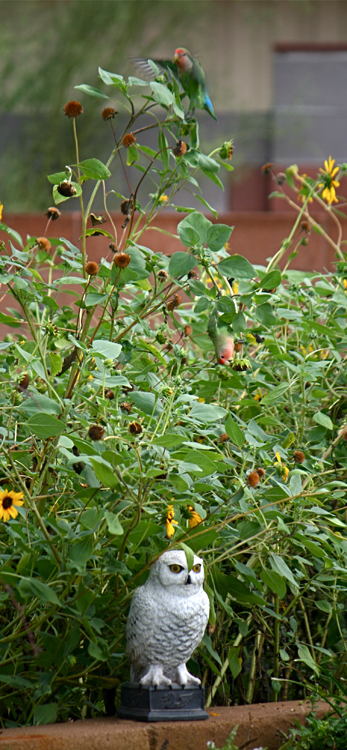 tundra? Really, though, it's not geography that's the problem. And its not because of the way he looks: Harfang's designers have given him all the owly characteristics – starting with lots of "good feathery detail". He's gifted with a large, domed head that functions as a mobile radar dish, strong taloned feet, and alert, upright posture cloaked with cryptic coloration — in his case perfect for mimicking hummocks of tundra.
<< Harfang lui-même happily not scaring Rosy-faced lovebirds in our sunflowers

These are the marks of owliness, recognized by every cautious bird and small scared mammal.  This fundamentally owly shape is so recognizable that when a real owl wants to disappear it can hide in plain sight by making slight changes in that shape: it might turn sideways, draw itself up like a thinnish branch, and squint to hide its vivid eyes. Then, to perfectly complete its innocent stick impersonation, an owl removes itself from the scene by holding…perfectly…still.
And that's why Harfang, the heavy-duty plastic K-Mart Owl, owly as he appears, fails to effectively frighten. He's motionless, and therefore invisible: an abstract branch, a bleached stump. Hunted animals know a stump won't eat you, and you can sit on a branch. To them, Harfang – like a ball park umpire – is merely part of the field.
So physical presence isn't the whole story of shape. It doesn't start at the cranial tufts and end at talons or wingtips. It's not merely what a bird looks like — it's bigger than that. Ecologists strive to quantify it; hunters, photographers and artists each in their own way try to capture and display it; storytellers remind us: the whole shape of a bird is how each one fits into the world, an interlocking, integral part of a larger picture, like a puzzle piece, or the fibers of a basket.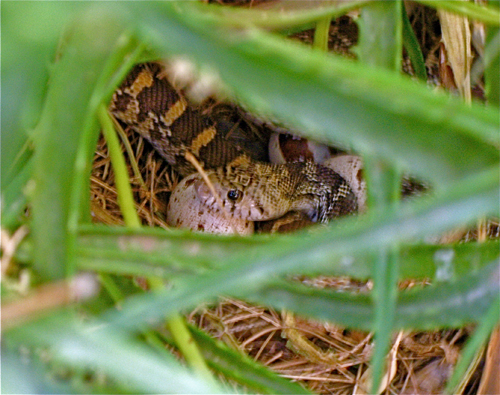 It's a Gambel's Quail hen pecking at grass seeds while in her nest nearby, three of her eggs are being swallowed by a young gopher snake – the unwilling process of a quail turning grass into snakes.  It's also a rural school kid explaining that her grandma always says that when you hear a hoot-owl call, it means someone's going to die.  It's a well-worn clay pot in the Heard Museum decorated with burrowing owls and spadefoot toads, meant for holding the fruits of the monsoon harvest.  And it's the motivation of a group of people working to preserve the Sonoran Desert not just for what it can do for humans, but simply on the desert's own merit.
So whenever you think of a bird, imagine its whole shape. The shape that's made up of all of these things: a bird's body, its biology, its presence on the land as well as the place it holds in human minds and hearts – like ours here today as we illustrate stories of birds with our imaginations, along with the help of one funky plastic owl.