…it's hard to hide in bright, falling foliage if you're a flying tiger…
Here's one of a pair of Great Horned Owls we happened upon yesterday in a cottonwood grove along the Verde River east of the Phoenix metro area.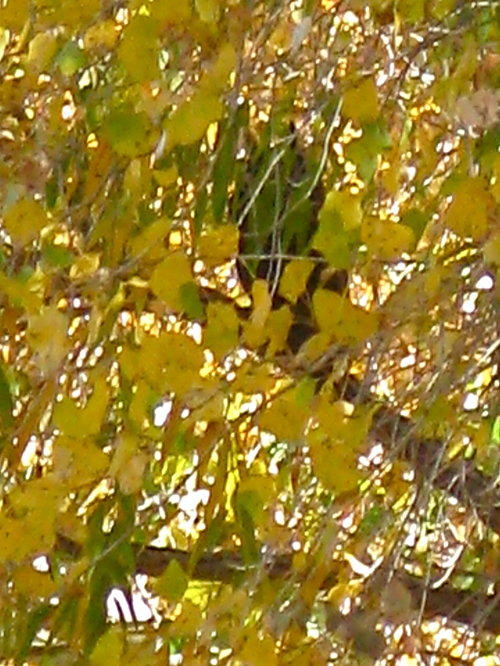 We were scouting for Tuesday's official Christmas Bird Count of the Rio Verde area, and accidentally flushed the pair from their day-roost just before midday.
The owls flew a short distance then resettled, each in a spot they felt was secure.  One hid well, disappearing from view, but the other became a shadowy shape in golden foliage.
Great horned owl (Photo A.Shock) >>
It evidently felt sufficiently concealed, since it didn't fly again, despite our nearness and a raven and a cooper's hawk hassling it.  Look carefully — even through the screening leaves,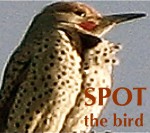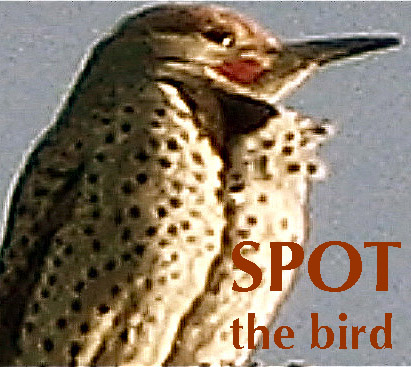 you can pick out the owliness of its outline: a solid, chunky form with wispy cranial tufts. "Stink eye" — no one likes their nap interrupted — can be deduced, but not actually discerned in the photo.
I've classed this as a Spot the Bird, of sorts, just because.