On our way home from our weekend getaway, E and I stopped at Montezuma Well National Monument.  It's one of our favorite places: a compact confluence of archæology,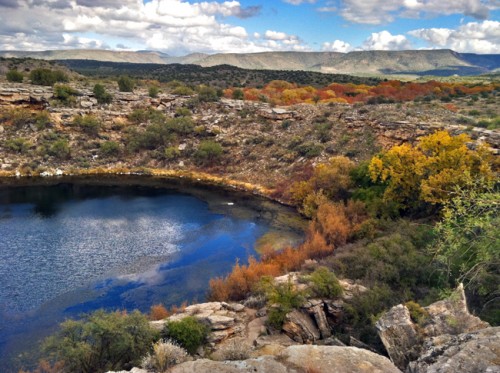 geology, and natural history. If you haven't been there while visiting central Arizona, I highly recommend it.
>> Montezuma Well and beautiful fall color (all photos in this post either A or E Shock; click to enlarge)
As we were walking back to the truck, admiring the glow of the cottonwoods in the creek bed and dramatic clouds in a sapphire blue sky, I remembered to look down.  It was a good thing I did: underfoot were a couple of spiders.  Unaware of each other or of us, they were not going in straight lines as if to get from point to point, but were moving around deliberately, as if looking for eight lost contact lenses.  Each was a moderately large animal, the size of an adult wolf spider.  But they had round cephalothoraxes, and were black with lots of gray spiky hairs on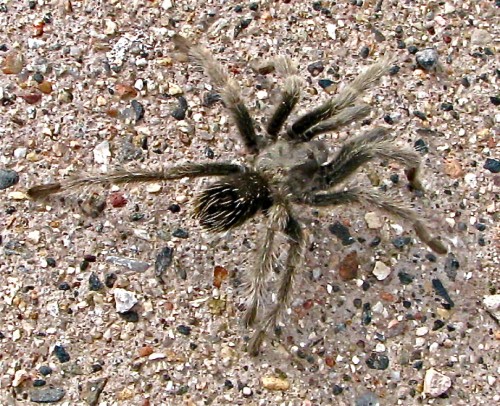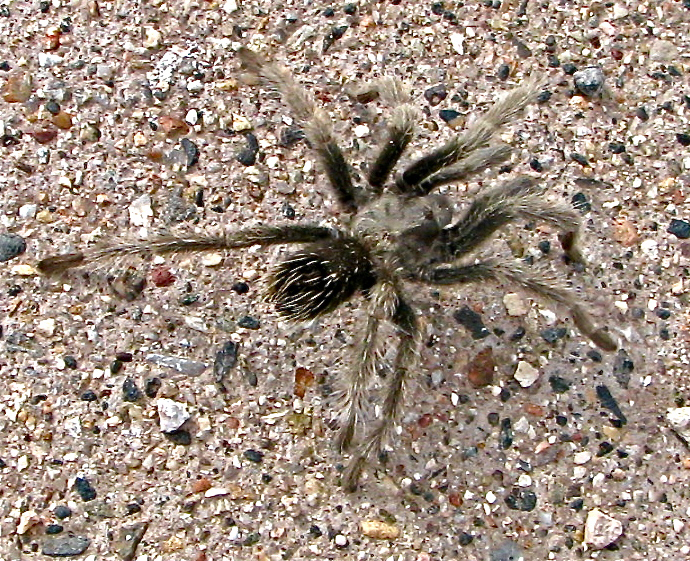 their abdomens and stocky legs.  I bent over for a closer look, and wondered if I were seeing tiny tiny tarantulas.  Tiny for a tarantula, that is — they were still fairly large spiders, about an inch and a half from toe to toe.
<< on the go, places to be, females to find
We watched them for a while, got some pictures, and went on our way, hoping the squabbling tourist family on the trail behind us wouldn't accidentally flatten the little guys through inattention.
Back on the highway in cell phone range, and uncertain if we'd really seen tarantulas, I consulted the internet and discovered this site: So You Found a Tarantula?  (In case you ever need to know how to transmit a live tarantula through the US Postal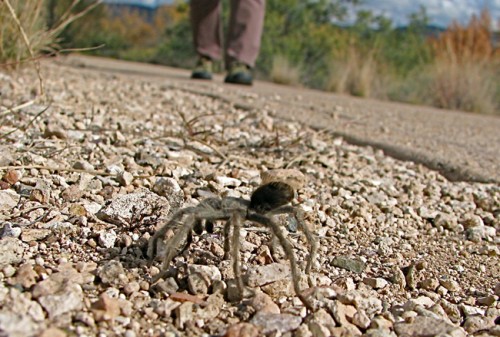 Service — and apparently there are good reasons to do this — this is your site.) It solicited questions, specimens for ID, and generated answers about things tarantular, including citizen science and advice about tarantula husbandry.
>> "Do not get too close: I am assuming the posture that indicates I am willing to kick irritating urticating hairs off my abdomen at you."
Through this post on the website of the American Tarantula society, Dr. Brent Hendrixson of Millsaps College is trying to increase what's known about American tarantulas, which for all our familiarity with them from heebie-jeebie movies turn out to be poorly understood in terms of their systematics and life history.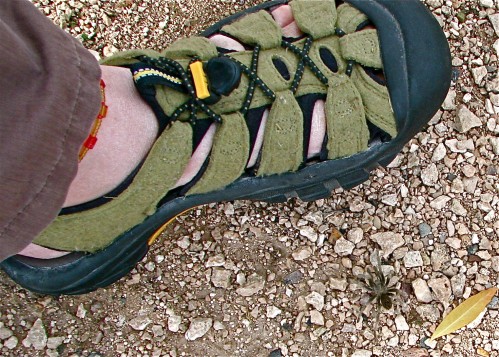 << Keen sandal for scale.  Tiny tarantula is just to the left of the yellow leaf.
The website was fascinating, but it assumed you already knew you'd found a tarantula — it wasn't set up to answer the question "Did I find a tarantula?"  And we weren't sure: aren't all tarantulas huge hairy hand-sized horrors?  Other tarantulas I've seen in the wild or in captivity were all enormous.  If tarantulas we had seen, then they were "toy" tarantulas, the chihuahuas, the tea-cup tarantulæ of the arachnid world.
After a little more research on the Web I was still undecided about their tarantularity, and decided to email Dr. Hendrixson photos of one of our dinky dudes asking if we had seen tarantulas, and if so, what kind?  Within minutes, I'd received an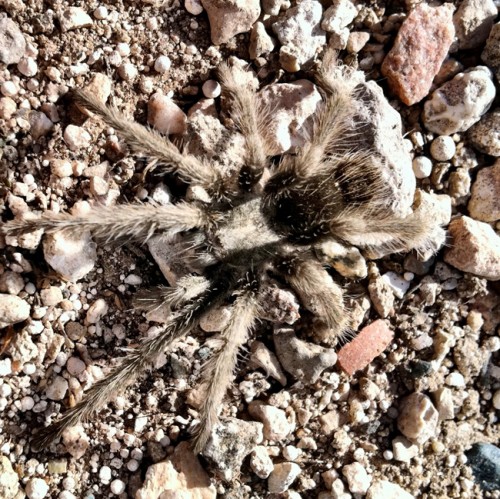 email reply from him: "Definitely a tarantula."  This was exciting!  Better yet was the next part: "There are a number of 'small' species in Arizona and it turns out that this one is most likely undescribed (i.e., doesn't have a name yet)."
>> Possibly, these were adult males  wandering about searching for females' burrows, where the ladies were waiting for male callers.
Sure enough, according to this website, there are 14 species of tarantula, all in the genus Aphonopelma, that live in Arizona: three in Maricopa, three in Pima, three in Coconino, etc.  But in Yavapai County, situated between Coconino County and Maricopa County, no tarantulas have been scientifically described.
This doesn't mean that we discovered an unknown, new species of tarantula (although it is a possibility).  It's just that biologists haven't poked around enough tarantula burrows to know who answers the door in this location — it could be an already described species that also lives in an adjacent county.  We'll have to wait to see what science decides.
In the meantime, we can fantasize about eponymous lightning striking twice: first Thermogladius shockii, now Aphonopelma shockii?  Well, of course not (that's not how scientific nomenclature-giving works), but you can't blame us for pretending.  Nevertheless, I'm still excited about having spotted diminutive, un-named tarantulas in the wild, who are living their lives entirely unconcerned that no one has ever slapped a latinate moniker on their hirsute posteriors.
Bonus etymology

All American tarantulas belong to the genus Aphonopelma.  According to Henry F. Beechhold, this name is derived from the Greek elements aphonos, "silent", and pelma, "[sole of the] foot".  (I haven't cracked Liddell and Scott on this one, so we'll have to take his word for this.)  I think it's unfair of tarantulas — even tiny ones — to be pussy-footed; I'd rather be able to hear them coming. On the other hand, I once heard the click of a cockroach's feet as it walked across ceramic tile, and that was fairly disturbing, so maybe, on second thought, silence is golden.