Last post was the New Year's first bird — a frosty Costa's hummingbird — but this one is the Year's First New Bird, and it's a hummer, too.
We just returned from Baja California, and in the mission village of San Javier on the dramatic east side of the Sierra de la Giganta in Baja California Sur, Xantus's hummingbirds (Basilinna or Hylocharis xantusii) were much in evidence. They're pretty little birds, medium-sized for a hummer (about the size of Anna's) and colorful, sporting a bright red bill, buffy chest and belly, azure and emerald green upper-parts, black throat, blue-black forehead, a white line behind the eye, and a cinnamon tail.
Behind the Misión San Javier de Viggé-Biaundó, in the three-hundred year old olive grove planted by its founding Jesuit missionaries, Xantus's hummers zipped back and forth, feeding on chuparosa flowers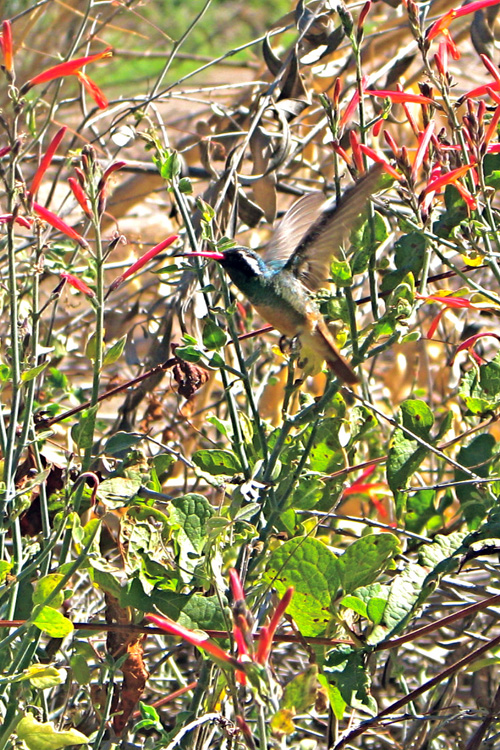 sprawled over the bulky stone walls (photo right), perched in the thin tips of the olive branches (below), and scolded each other. This is a hummer that lives no where else on earth but central and southern Baja California, and we had tried unsuccessfully to see it once before on an earlier Baja trip, so it was delightful to get so many good views.
(All hummer photos thanks to E.Shock and his magic big little zoom lens, in difficult light conditions with tiny moving targets! Click to enlarge.)
The man whose shares his name with the bird had an interesting history: Xántus János,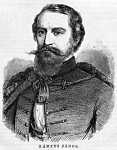 John Xantus de Vesey (left), was a Hungarian exile who came to the US in the middle of the 19th century, and worked with Hammond and Baird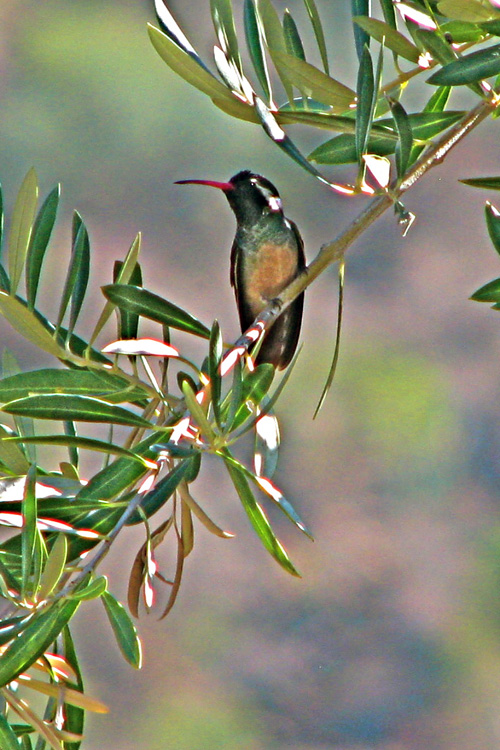 (also names familiar to birders and biologists). He had a short-lived consulship in Mexico — according to Wikipedia he was dismissed for ineptitude — but was there long enough to collect a specimen of this endemic hummer.
In his lifetime, Xantus's name was also attached to a blenny, a croaker, a gecko, a pelagic crab, a murrelet, a wrasse, a night-lizard, and several plants. In addition, according to an anecdote recounted to me by a Baja historian, during his consulship Xantus left quite a few of his own chromosomes in the local gene pool, along with his Hungarian family name Xántus, which reportedly can still be found as a surname in Baja.