Saturday morning while walking through our neighborhood to the Park, E and I saw one of the local Gray Foxes. We didn't have a camera! Too bad; it posed obligingly and let us admire it for quite a while: a beautiful, delicate zorro with a most magnificent tail.  It looked just like this:

Desert Gray Foxes are quite arboreal: we frequently see them up mesquite trees and running along the tops of the block walls that criss-cross our neighborhood. They jump-climb the 6-foot walls easily, and also use them for somewhat coyote-proof napping eyries. Gray foxes rely on their subtle coloration to den out in the open — when they kip they coil up so that none of their black details show, enabling them, like owls, to hide in plain sight. The very first gray fox I ever saw was on a road embankment by the Mississippi River north of St. Louis: the fox was curled nearly invisibly in the thin winter grasses, right on the dirt about at eye level. As we drove past it on a gravel road it barely raised its head to look at us, but the movement revealed its dark eyes and "tear-lines". If it hadn't we never would have seen it.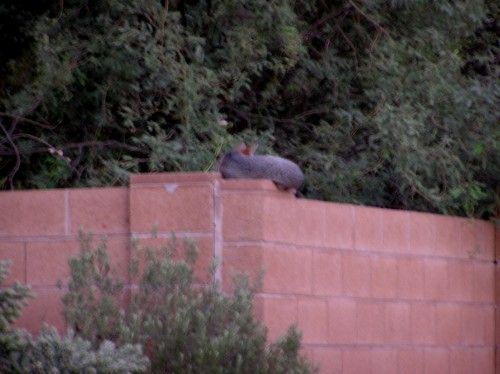 I borrowed the photo above by Patti McNeal, who found this animal in Terlingua Texas. I've never managed a photo of a fox that's any good, although I have been to Terlingua TX. Just for local interest, to the right is a photo I took, blurred and hard to see, of one of our local Grays napping on a neighbor's wall in the dusk.
Etymology
Foxes are canids, but not Canis, the genus of dogs, wolves, coyotes, and jackals. The Gray fox has its own genus: Urocyon, which is from Greek ὀυρά, tail, and κύων, dog. Its species is cinereoargenteus, from Latin cinis, ash, plus L. argenteus, of silver. Put them together, and its name means "silvery ashy-black dog-tail". In case you're wondering, the genus of the Red fox and other "true foxes" is Latin Vulpes, meaning "fox", which does NOT give us our word "fox." That is said to be derived through Old English from Old German fukh (the modern German word for fox is fuchs), derived from the Proto-Indo-European root puk- which means "tail."