(The third in a series: read the first and second parts)
It had been a while since I'd had a note from professor Harrower with Ganskopf numbers to illustrate, and there had been some changes at the Foundation since my last visit. Stanley was still at the front door in his epauletted shirt and ill-fitting trousers with the gold side-stripes, but now there was a sternly uniformed security guard at the Special Collections entrance.  He had no name tag and a sidearm.  Also, the old-school turnstyle had been replaced by a state of the art metal-detector.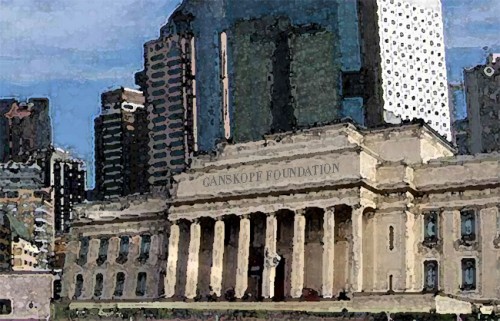 Another difference was the librarian's custodianship — after making sure I was settled, Miss Laguna left me alone with the day's owls, which she'd never done before.  This may have been because for the first time since I'd been coming to the Foundation Library, there was another patron there, also viewing an item from the Collection.  When I asked, Miss Laguna emphatically whispered "That's Dr. Danneru" and glided solicitously back across the room to his table.  I couldn't see what he was accessing — the piece was sunk deeply into its black velvet cushion.  So while pretending to fuss with my lamp, I spent a moment studying the man instead, but couldn't tell much.  An academic, probably (who else would be here?), although he emitted a mildly exotic sleekness ("Europeaness" Becca would call it snarkily, making it a point to pronounce it anatomically) that didn't coincide with my experience of university professors.  Maybe this explained why Miss Laguna was overlooking the steaming cup of contraband on the table next to him — or maybe had even supplied it: while I was confined to dry media and a dry throat, "Dr. Danneru" had hot tea.
Still, I wasn't truly jealous of Miss Laguna's attention: it was easier to draw without anyone attending me, and I could focus on the current crop of "fetishes". It was a mixed group of owls: two of stone, and one of a brass-like metal. Here is the finished rendering, along with my hasty notes.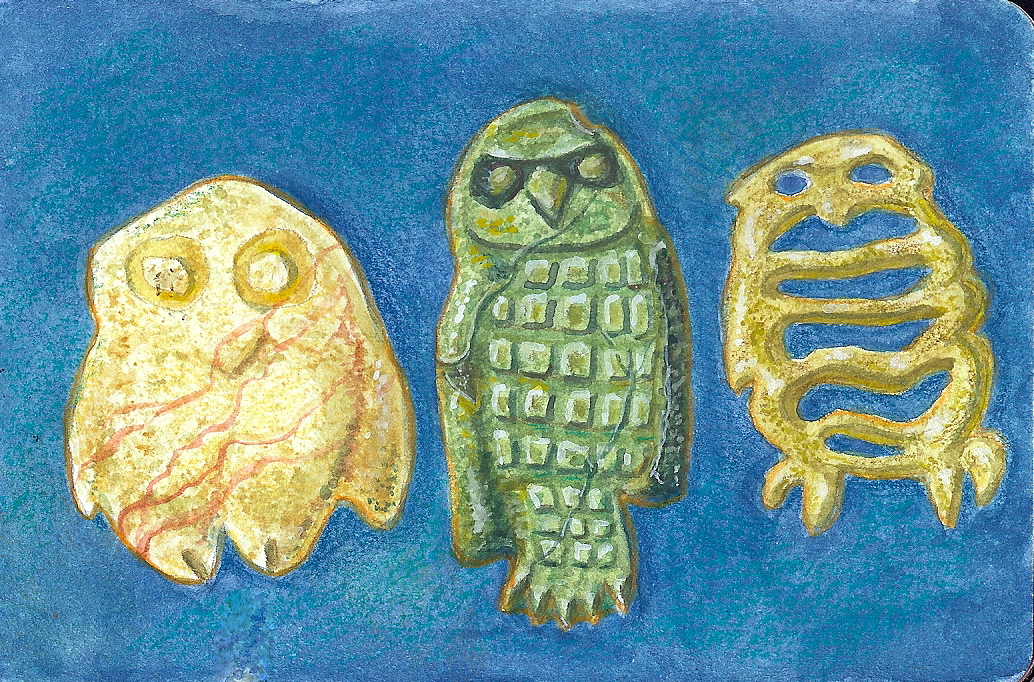 From left to right:

GKC/orn111a (3.23cm ht): carved red-veined

marble

cobble

in the shape of an "earless" owl.  The Library catalog describes it as "alabaster".  Feet hooflike.  Note to Professor Harrower: I don't know what the backs of these pieces look like; without Miss Laguna's once-again purple-gloved fingers nearby, I was not able to touch the artefacts to turn them over.
GKC/orn98a (3.88cm ht): carved semi-transluscent green stone — jade, jadeite, nephrite?  also an "earless" owl, its ventral vermiculation or maculation indicated by a sort of checkerboard.  Chip in head above left eye.  Tail? toes? at bottom of piece indicated by five points.  Must be tail; why would there be five toes?  Didn't GKC/orn335f also have 5 toes?

GKC/orn399d (3.10cm ht): also "earless" although it gives the impression of having ears put back in irritation like a cat. This is the only metal owl I've seen so far; cast? brass? bronze?  The Library catalog uses the abbreviation "br" which is not helpful.  In brackets next to that are three characters in a stroke-character alphabet I don't recognize except they are not Greek or Cyrillic.  When no one was looking, I tipped this one up just a little with the eraser end of my mechanical pencil, and could see a small loop on the back, as if it were meant to be hung on a cord or sewn to a garment.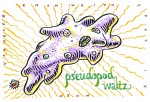 My stay was shorter than usual: I worked rapidly to complete the pencil sketches and packed up in a hurry, burning my fingers on the lampshade. After indicating to Miss Laguna she could return the owls to their secret nests in the secure stacks, I rushed back to my hotel room and laptop — there was something I was eager to look up.