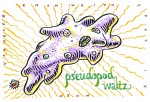 (Remember, for guaranteed fiction, look for the Pseudopod Waltz logo: "You Never Know Which Foot Is When.")

This is the first installment of a series. The events take place many years before the "Ganskopf Incident". Click on the link at the bottom of the page to continue to the next installment.

Wayfarer Arrives:
Deep in the Negev Desert, Israel, in the early 1980s.
After the long flights, with the long layovers, first in Chicago then in Hamburg, the long sherut taxi ride from the airport, and the long, jarring jeep ride from the university, Einer Wayfarer stood overlooking a dry, hot, honeycomb of trenches and pits on the top of a dry, hot ridge in a dry, hot, central Negev valley. Her ankles were swollen, and she badly wanted a glass of wine, and a dim bar to sip it in. The glare of the sunlight off the pale soil hurt her eyes, the heat hurt her nostrils, and Wilson A. Rankle's droning voice hurt her ears. He was saying something she supposed she should be attending to: "…primarily MBIIa to judge by the pottery, the same date as the walls although we haven't located a glacis or any major fortifications… the early LBI strata are largely absent here at Beit Bat Ya'anah except in Area D…"
Dr. Wayfarer was a philologist first and only secondarily a historian, and she couldn't understand why archeologists used so many letter-abbreviations that looked like the names of viruses. Furthermore, she knew little of the history of the Bronze Age – or any other Age, frankly – in the Levant, and was really only here at the behest of her colleague and friend Avsa Szeringka, who had somehow herself managed to remain comfortably ensconced at the Institute near cool, gray Oxford. This, too, was a gray landscape but a harsh, scorched gray, not a muffled cloud-gray. Here cobbles and stones lay like bare bleached bones on the dirt surface, excavated unscientifically by the winds.
She turned to the dig director, hoping that watching his lips move would help her comprehend his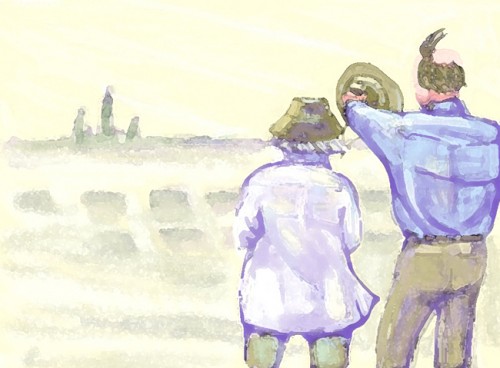 monotonous jumble of letters and digits, but she only managed to observe that his comb-over had flopped to the wrong side of his scalp in the hot wind. He was pointing with his hat in his hand, and she wished he would replace it on his cranium; he was pink and sweating and Wayfarer believed he required its floppy brim more for shade than for an ineffectually vague indicator. She looked away again, to be safe: at any moment, the comb-over would flop back, or, worse yet, erect itself like a hoopoe's crest and stay that way. In her sleep- and shower-deprived state, she could not guarantee her decorum if that occurred.
Finally Wilson A. Rankle stopped talking, stopped waving his hat imprecisely, and smoothing the buoyant flange of hair with a self-conscious and practiced gesture he jammed the hat back onto his head saying, "Well, that's about it, site-wise. So I suppose you'll want to see the object now."
Wayfarer detected peevishness in this flat, ungracious offer. She knew the source of the peevishness, and it sunk him even lower in her estimation. Squinting against the glare, her pale blue eyes didn't meet his, but she said mildly, "Of course. But first, I'd like to unpack, and, if it isn't too much trouble, perhaps something to drink?"
He waved a hand to indicate they should follow the goat track back down to camp. "Well, it's almost tea-time," he said. "Mikka will have put out mits, biscuits and hot water. Oh, there's coffee too…"
"Marvelous," Wayfarer said, not impressed with the standard options of reconstituted juice or hot drinks. "Lead the way." Sliding a bit unsteadily down the unconsolidated trail behind the archeologist, she was already calculating the least amount of time she could possibly spend on this romp.
To be continued…