This is the fifteenth installment of the series. The following links will take you to the last episode before this one, and the very first episode of the series:
Read Part 14 ………………………………………………………………….For new readers: Read Part 1
Previously:
Having extended her time at Beit Bat Ya'anah to try to learn more about Szeringka's elusive protégé, Einer Wayfarer also continues to gather info about the site itself. "Beit Bat Ya'anah means House of the Ostrich's Daughter," Amit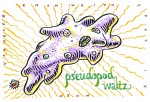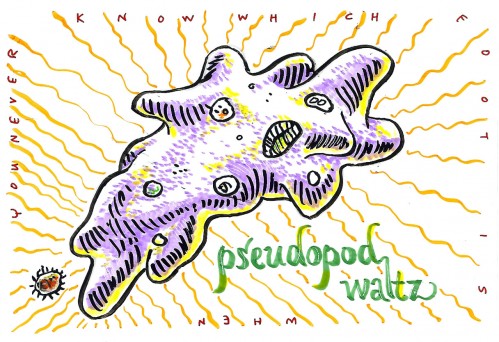 Chayes had told her. "There used to be an ostrich farm on the site. Ask Moshe sometime – he loves to tell that story." Since the professor now finds herself dreaming about herds of strong-toed ostriches wandering freely among the jumbled rocks of the Upper Wadi, she resolves to ask Moshe about this part of the site's history.
Moshe's tale part 1: hai bar and hospitality
"And so you must imagine the greening of the Wilderness!" Moshe declared to his audience of one. The dim light strings edging the dining tarp barely lit the tables, making the dark only slightly brighter than actual starlight. Equipped with rough but expressive English, Moshe struck Wayfarer as an enthusiastic storyteller, and his usual short temper was nowhere in evidence. The professor supposed it was because he was momentarily playing camp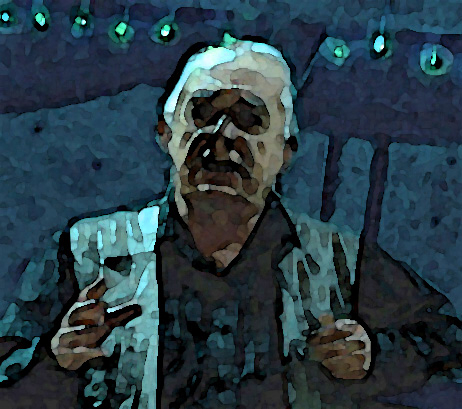 host and not manager. She made a scholarly mental note: the guest-host relationship, well-documented from antiquity, was still thriving in this part of the world. She filed the thought, and caught up with his tale.
"Such heroic years back then, when the Negev was tamed by man's hand, made fruitful for all the people." Moshe gestured grandly towards the dark, vacant land wrapped all around the camp. Wayfarer assumed it was a symbolic gesture, meaning other parts of the southern desert: the barren stony flats below the ridge at Beit Bat Ya'anah seemed never to have received the benefits of human efforts, or shown results if they had.
"Kibbutzim like the oasis Yotvata at Ein Radian; Sde Boker, Ben Gurion's last home," Moshe continued with his bold pioneer theme. "Revivim raised from the sand – these places and more had sprouted with hope and irrigation and hard work, so that there were vines and olives and lemons, fields and schools and houses, where before there were just barren stones, wild beasts, and serpents."
And fellaheen villages, and Bedouin tents and herds. Wayfarer's adamantly impartial brain – the one she applied to her student's papers, colleagues' talks at meetings, and her own research – supplied this thought silently. She was interested in facts, complexity, cause and effect, and had no patience for a sanitized one-sided story, whatever the historical setting.  Unaware, Moshe went on.
"But some people saw that though the land was filling with men, their farms, and factories, in another way it was empty. Long before the State,
and after rifles became common, hunters shot everything that moved and no one cared. Oryx, ostrich, crocodile, wild ass, cheetah, ibex – they all were gone from the wild places. Many of the places were gone, too: not gone, but improved, no longer wild enough for the animals. So began Hai Bar, the "wildlife" project to put back wild creatures of the Bible into the land, and make national parks and nature preserves for them to live in, like Noah's Ark on land. At this time the government was paying big money for animals to put back in the desert. It was an expensive project." He paused, then jabbed one finger decisively into the air.  "And that is where the Greenboim brothers come in."
"Ah, the Greenboim brothers," said a voice from the dark. At the edge of the circle of light, Wayfarer could see Wilson Rankle heading toward the mess tent. "Just getting a cola," he explained.
"The Greenboim brothers?" Wayfarer asked Moshe.
From the tent: "They must have been one slick pair of…"
"Businessmen," Moshe stated, raising his voice over the unsolicited commentary. "The Greenboims: Danny and Avidor, brothers from Jerusalem, looking for a way to help the country and to make money at the same time. All these wild animals had to be bought from other desert countries then brought here at great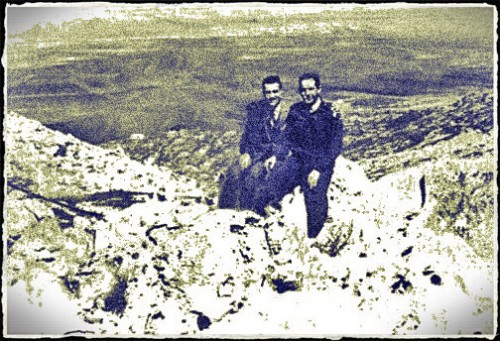 expense – do you know how much the Shah of Iran wanted for a fallow deer, or the Saudis for an oryx? Danny and Avidor hated the thought of so many Israeli lirot flying out of the country. They asked why couldn't the money stay here, why couldn't some of the animals be raised here? Cheetahs, hyenas, leopards, no thank you, Danny didn't want to get involved with sharp teeth and claws. But an ostrich, that was another story – just a very big chicken, yes? The eggs and young birds could be sold to the government for the nature preserves, yes? And Avidor had experience – he'd worked in a South African ostrich farm as a young man. So, they decided ostriches. The Greenboims would be rich, and the desert full of big birds again: a solid plan. Now all they needed was land, and after a lot of searching, this dry ridge was where they came, holding a lease from the government. They put up fencing to hold in the birds and keep out the leopards and hyenas…"
Wayfarer's pale blue eyes opened a little, an eaglish, sharpening look that any of her students would have recognized with unease. "Hold on," she said, "I thought you said there were no wild animals left."
Well, maybe still a few," Moshe acceded. "This part of the Negev is far: now, and more far back then, sof ha'olam smola – at the end of the world go left, yes? That was why the land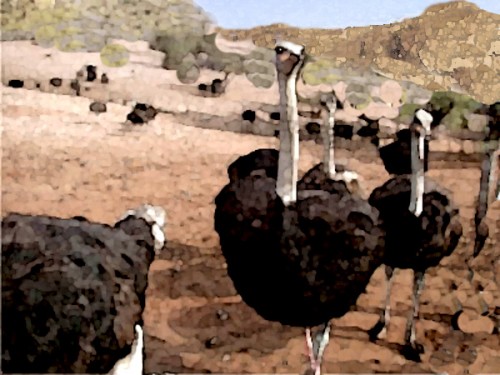 was available." Having cleared up the point, and received no further interruption, he continued. "There was water at the old spring house back in those days, and they built the lab building to hold incubators for the eggs and a place to make food for the chicks, and the ostriches multiplied…"
"Just a minute," the professor broke in again, valuing accuracy even above formulaic narration. "You skipped something. Where did their breeding stock come from, if ostriches were extinct in the wild?"
Moshe didn't have a chance to answer. Wilson Rankle erupted from the mess tent wielding an opened bottle of cold cola, and stepped into the light. Hat-free, the director's combover was neatly in place. Below it his forehead was pale and his nose was pink. "Where the hell is Dario?" he demanded.  As usual the question went unanswered. Rankle sputtered, "That idiot forgot to padlock the refrigerator!"
"You padlock the refrigerator?" Wayfarer exclaimed. She recalled having that thought about him her first afternoon in camp, without suspecting its literal truth.
"And the pantry," grumbled the archæologist. "Only at night, for the same reason we padlock the tool shed. Otherwise the Bedouin boys – natural thieves, the little thugs – will sneak over in the dark and help themselves."
"More likely the Aussies will," joked Moshe, winking at Wayfarer. "But really, it's only to make sure the door stays shut to hold in the cold all night when the generator is off. You can't lock a tent." He winked again.
The winks surprised her. To Wayfarer's further surprise Rankle crossed to their table, swigged his cola, and settled as if he meant to socialize. "I can't believe Chayes entrusted that pain in the ass with a key… he's flakier than the girl. And I wouldn't put it past him to help himself to a midnight snack, either." He seemed to expect support from Moshe on the topic, but only received a shrug.
"That pain in the ass keeps kashrut okay," Moshe said pragmatically, "which saves time and water. And saves me from more gray hairs."
"And his cooking is a noticeable improvement," Wayfarer commented. "Go on, Moshe; you were about to explain where the ostriches came from."
Rankle said, "From what I've heard, they stole them."
"There was no stealing." Moshe waved a hand. "And who's telling this story, I ask you?"
Rankle looked at him, then at Wayfarer, then back at Moshe.  "Pardon me for interrupting this… private party." He stood. "Just make sure the refrigerator is locked up tight before you go to bed, will you?"
"Ken betach, sure okay, if I remember so long," the camp manager replied, knocking his gray head with weather-beaten knuckles as Rankle headed back towards the lab, still clucking about "natural thieves".  Once he was out of earshot, Moshe said to Wayfarer, "I hate to spoil his big bad mood, so I didn't say – it's me who unlocked the refrigerator. I thought a cold drink would be nice for our desert story."
He disappeared into the mess tent, then came out, the host once more, carrying a plastic pitcher of mits and a bowl of something that looked like a beige version of the horrible puffy snacks Wayfarer had banned from the computer room for depositing an orange residue on terminal keyboards. Moshe placed the bowl near her, and held out his palm in invitation. This soon after dinner, the professor was neither hungry nor thirsty, but she dutifully accepted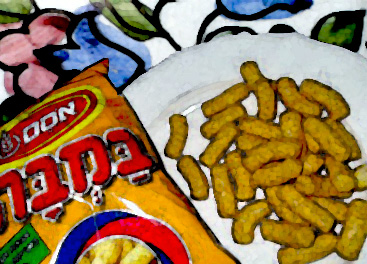 her role as guest. She took the plastic cup of reconstituted fruit juice Moshe offered – there were ice cubes in it, the first she'd seen since arriving – and tried one of the starchy puffs.
"Is this… peanut butter?"
"Ken, yes; Bamba snacks – zeh tov, zeh tov, it's good for you, all natural. More, please." He pushed the bowl closer. "They put vitamins in."
"What an extraordinary flavor." Wayfarer intended this response to be imprecise enough to pass for approval.
But Moshe didn't seem to notice her lack of enthusiasm: he was shaking his head again, staring after Rankle. "All season he's like this with me… How do you steal ostriches?" he demanded. "Feh!" He swiped his palm through the air dismissively. "There was no stealing," he said.  "They did not steal ostriches," Moshe raised his shoulders. "Well, at least not exactly…"
To read the next episode, "Smuggling Eggs" click here.