The post-breeding influx of Costa's hummingbirds in our Phoenix-area yard continues.  This tough little desert hummer is present at the feeders year round, but the population goes up noticeably between about June and December.  Most of the birds we see are males, some in fully developed adult plumage, some with scraggly purple moustaches just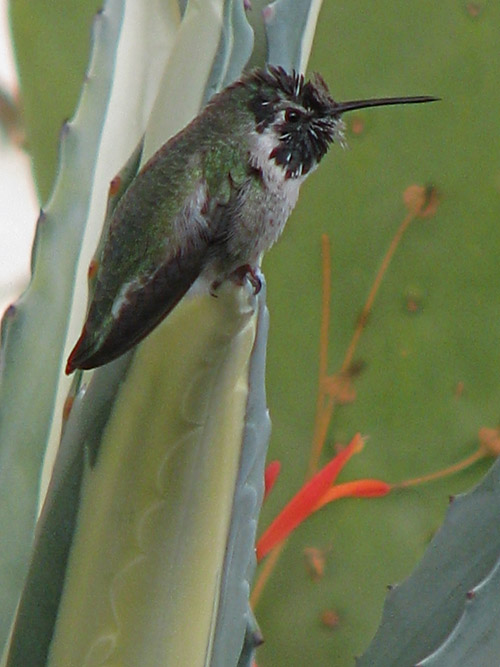 growing in.  Gray-green, slightly less pugnacious females are not as flashy, giving the impression of being less numerous, but I'm not certain if this reflects numerical reality or is a figment of observation.
(left: "YOYboy", young-of-the-year male Costa's hummer; photo A.Shock)
Since the vacancy of Miss Thang from the front garden, a new battle for the porch feeder is ON.  The combatants are two male Costa's, who are easy to tell apart by comparing their gorget featheration.  One is "YOYboy" (male Young of the Year), with only sheathed feathers and small purple spangles sticking out from his face like cactus spines (see left).  His favored perch is about 18″ off the ground, the very tips of the leaves of an Agave americana mediapicta in a pot on the front walkway, where a volunteer chuparosa flaunts its red nectar-filled flowers conveniently nearby.
The other is a full adult male, Macho C (nicknamed in remembrance of Arizona's recently — and tragically — deceased last known resident wild jaguar Macho B), who sports glorious grape Yosemite Sam mustachios.  He perches in low branches of the mesquite tree across the walkway, also near a blooming chuparosa.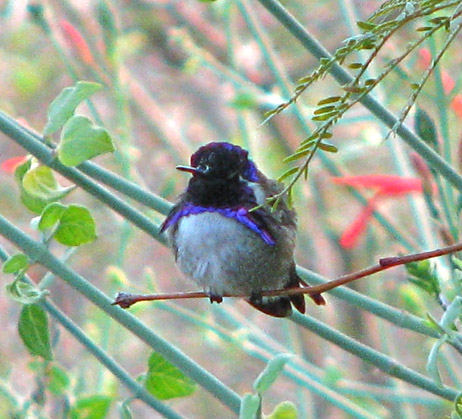 (Right: "Macho C"; photo A.Shock)
These habitual perches are sallying points for fierce aerial combat and tail-chases that break out several times each day, accompanied by zoom-buzzy wing-whirr, metallic scolding, and sometimes actual brief mid-air body contact, audible as a quick, dry feathery tap that sounds like someone snapping shut a rice-paper fan.
Much of the action occurs at the feeder, and can go on for minutes — E clocked them at more than three minutes solid the other day, with the winner getting to sip supper from the sticky feeder ports.  The fierceness of the competition has somewhat lessened in recent days, but they're both still close by, and in between bouts of strife, each roosts and preens on his perch less than 15 feet from the other. Occasionally they join forces to chase other hummers from the front yard.  As far as I can tell, with all but one of the feeders being defended by male Costa's, the Anna's hummingbirds have been confined almost entirely to one part of the yard: the airspace and perches in the big Aleppo pine in the backyard, where the Hen nested last spring.